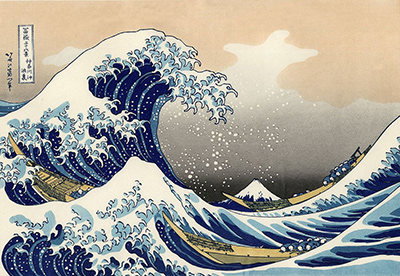 The Great Wave off Kanagawa is known by many other names, including simply Japanese Wave Painting, and The Great Wave. It is perhaps the most famous Japanese painting in history.
No one knows for sure when it was created, but it is thought among many art historians that it would have been created between 1829 and 1823. The painting is by Katsushika Hokusai, who was a Ukiyo-e artist. The Wave is credited as one of his most famous works, and depicts a huge wave threatening the safety of Kanagawa. A lot of people presume the boats in the painting are being threatened by a huge tsunami, but others disagree. It has become a symbolic piece that represents Japanese art not only in this time period, but also in general.
Who is Katsushika Hokusai?
Katsushika Hokusa was a prominent artist of the Japanese Edo period. His exact date of birth, although widely discussed, is unknown, however the year has been pinpointed to 1760. His father, a mirror maker, took the decision not to make Hokusai heir to his business, which has led a lot of art historians to speculate that his Mother was a concubine, especially as they were an artisan family with good social standing. He was born in Edo, Japan, and his life could be described as comfortable in comparison to children growing up in the same place and time period as him. For the upper and middle classes of this time period, reading books made from wooden blocks was a popular pastime, and this gave way to many bookshops and lending libraries popping up in the larger towns and cities.
At the age of 12, Hokusai was sent by his Father to go and work in one of these shops, and it was perhaps being in this environment that inspired him to create his entire Thirty-six views of Mount Fuji collection in woodblock print. He worked as a wood carver, until the age of 18, when he was finally accepted into Katsukawa Shunshō and began to form his artistic style. It is hard to tack down the rise of Hokusai's artistic career, mainly because he had more than 30 names in his lifetime which he used, which was common practice at the time. Under the name Shunro, he published his first works in 1779, which were a collection of pictures of Japanese actors. Hokusai's association with the Tawaraya School, and name change to "Tawaraya Sōri", mark the height of his career. After a couple of years of tutelage at this school, he passed on his name to another student and set out to become an independent artist in his own right.
The one thing that set aside Hokusai's talent from anyone else during the Edo period, was his wonderfully accurate form of self promotion. In 1804, he took to a Tokyo festival and created a 600 portrait of the Buddhist priest Daruma with a broom and buckets full of ink, a stunt that got him attention and gained him a small amount of notoriety that he was able to ride the wave of for the rest of his life. After the age of 60, a period in Hokusai's life came along that could potentially be when he created his most important work. This is when he created the Ukiyo-e series that The Great Wave Off Kanagawa is part of. This series became widely known, and this painting in particular is one that resonates across the world with people who have different levels of art knowledge.
What is Ukiyo-e?
Ukiyo-e is a Japanese art genre that had it's most popular period between the 17th and 19th centuries. The genre is well known for its works that not only encompass paintings, but also woodblock prints. Many different things were depicted in the paintings and it was the style that made the genre so well known rather than the subject. Ukiyo-e paintings were of a number of different things, including celebrities at the time, sumo wrestlers, landscapes and flora and fauna. Some artists also dabbled with painting erotic paintings in the style. Although the artist's created the designs for the woodblocks, often, the manual task of carving them was passed over to someone else, so it was often a team effort to make the idea become real life. A lot of people who do not circulate in artistic circles are usually unaware of how uch of an effect Japanese art, specifically Ukiyo-e, had an influence on Western art, especially well known impressionists like Degas and Monet. There was even a filtered down influence on post-impressionism, and Van Gogh was said to be a fan or the genre.
What sets The Great Wave off Kanagawa aside from other paintings in this genre?
The Great Wave off Kanagawa may seem simple in design to the untrained eye, but the painting is one of the best examples of hoe much control Katsushika Hokusai had gained by this point in his lifetime and career. Not only did Katsushika Hokusai create his own process to bring landscapes to life while still exorcising a great deal of precision, he also wrote about this in his works 'Quick lessons of simplified drawing', in 1812, which were before the painting itself, but something he had always aspired to. The detail is much more prominent because the only two masses in the painting are the wave itself and the vanishing point which is beneath the wave. Although Mount Fuji appears in the background, the perspective and style deliberately makes it look small in comparison to the wave itself.
This area was well known in Japan to have rough waves, and they were rarely represented in this time realistically enough to give the viewer an idea of just how brutal they could be. Many other paintings with similar subjects to this one, that were painted around this time, would focus on the human tragedy of the boats being engulfed in the wave, but what makes The Great Wave off Kanagawa so different to paintings Hokusa's contemporaries were doing at the time is that he focused on the raw power of the elements rather than trying to provoke an emotional reaction from the viewer. Another striking thing about the painting, is that the colours are fairly basic while still being striking and unusual. A very small number of colour blocks are used in the piece, in keeping with the simplistic design, but the style manages to separate them out from each other well enough to make the wave stand out.
What place is shown in the painting?
In the present day, the town of Kanagawa would be part of Yokohama, Kanagawa Prefecture, Japan. during the period of time in which the painting was created, this was a well known port that travelled to Saganami province for trade. The town, well known for it's rough waves, merged into Yokohama in 1901. Yokohama is still a major port today, and it is the largest city in Japan behind the special wards of Tokyo. After the Meji Restoration of 1868, the port was developed in a huge way, to make way for the trading of silk. It is perhaps, the development of the port that stopped the waves entering the bay as large in size as they were in The Great Wave off Kanagawa, as many of the constructions act as a buffer to the rough seas.
What other famous paintings are by Katsushika Hokusai?
The Great Wave off Kanagawa was a painting that was made as part of a series called Thirty-six Views of Mount Fuji. All of the paintings are in a similar style, but there are many more paintings and series of paintings by Hokusai that are also famous.
Fine Wind, Clear Morning
This painting is another painting in the 'Thirty-six Views of Mount Fuji' collection. Instead of focusing on the sea around the mountain, the painting is a strong, bold depiction of the mountain itself. Fine Wind, Clear Morning was painted after The Great Wave, around 1830. In the Autumn, because the sun is lower around Mount Fuji, it can have the wonderful effect of using its reflection to turn the mountain red. This is the subject of the painting, and Hokusai again uses his bold style with colour to make the mountain stand out of its surroundings.
A Tour of the Waterfalls of the Provinces
Another series of landscape, woodblock paintings, 'A Tour of the Waterfalls of the Provinces' is the first series of paintings in this genre to approach falling water. Many artists have had an obsession with creating pieces on falling water, but Hokusai seems to have a way of commandeering the landscape in the painting to make it work for the way he wants the painting to be seen. In many of the paintings, the water itself actually engulf's the human inhabitants. This is a style that is widely known throughout his works. Most of his landscape paintings do have a human element, but are not human paintings. While humans or man made objects like boats are always there in the background, it only serves as a reminder of the superiority of nature.
Oceans of Wisdom
The ten fishing themed prints that compose the Oceans of Wisdom series are actually the rarest ones in the career of Katsushika Hokusai. They have a lot more detail that his other works, while still managing to stay within his style of simple, clean lines with uncomplicated colour blocks. Many people know of his paintings, and even people that do not have an interest in art would have seen The Great Wave, but in essence, this collection was just for his dedicated fans, as it was not as well publicised as his other works.
Another thing that makes these pictures so different from the others, as they focus on human activity rather than nature. Oceans of Wisdom features scenes of fishing, shellfish fishing and whaling. While a lot of pictures, like Whaling Off Goto still make the larger subject the whale itself, there is still a lot more evidence of human civilisation in the painting, like the boats and the hut. This is a complete u-turn from his other work, which has been described as only using human presence to show the contrast with the power of nature, to a more humanistic approach to his way of portraying the place and the time.
Who did Katsushika Hokusai Influence?
Many of his Western contemporaries in Europe were influenced by the work of Hokusai. Japanese art in general became a major influence during the 19th century, and the ability to travel more freely helped this a lot. As well as being influenced by him, many well known artists were said to be avid fans of Hokusai and collected his wood block prints. Degas collected them, and his impressionist style was said to have borrowed heavily from the later, more famous works of Japanese artists in the Ukiyo-e genre. Born from this, was the practice of 'Japonism', which was not only the concept of being influenced by Japanese art, but also personally collecting it. Other artists like Van Gogh and August Macke were known to be fans both professionally and personally of the works of Katsushika Hokusai.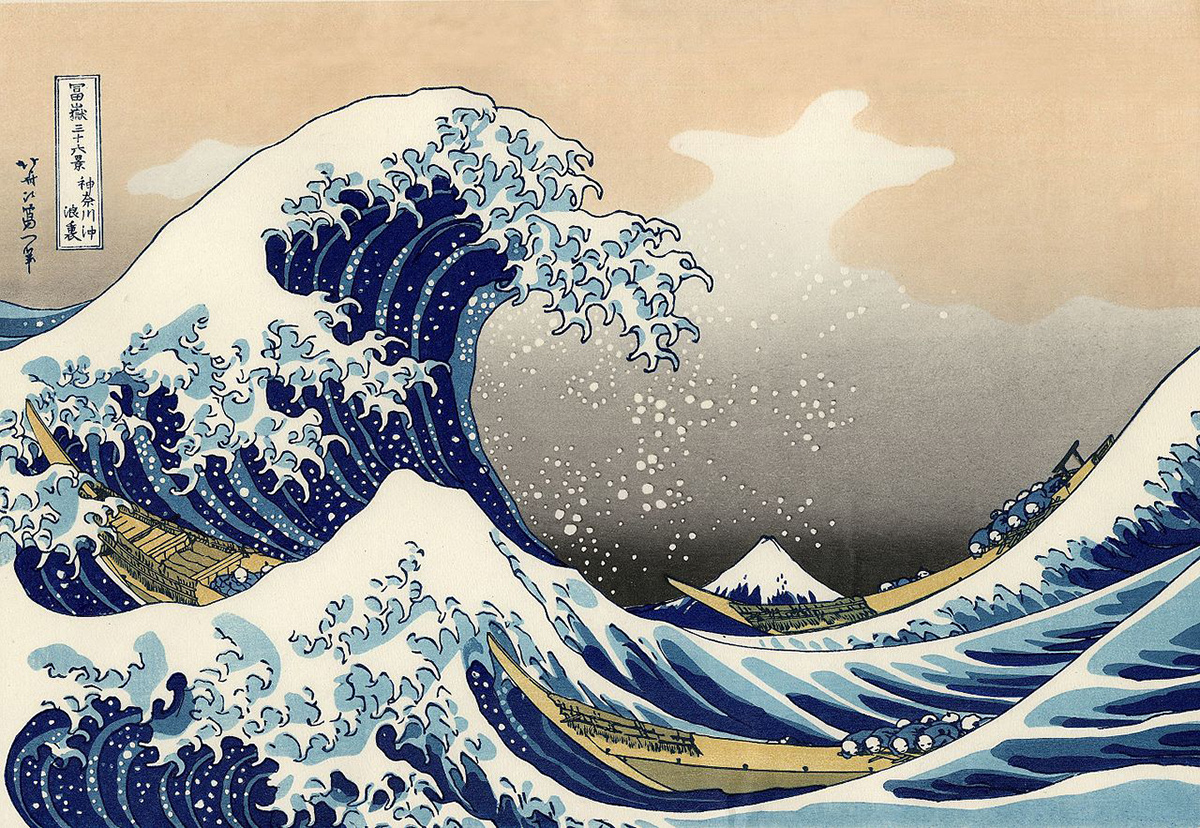 Great Wave off Kanagawa by Katsushika Hokusai is a coloured woodcut print which this skilled Japanese artist produced around 1829-1832. This section covers this beautiful art work in full and discusses the life and career of Hokusai as well. This is perhaps the most well known example of Japanese ukiyo-e art and was the very first part of Hokusai's artistically acclaimed series of prints, entitled Thirty-six Views of Mount Fuji. Within the Great Wave print is the memorable Japanese boat which struggles against the huge waves which approach the Japanese area of Kanagawa, giving this piece it's title.
In the background is the seemingly tiny Mount Fuji, with Hokusai using the principles of perspective to get across the danger and size of these waves. The beauty of this piece is in the natural force depicted by the artist as well as the charming detail which is put into each object within it, using Hokusai's style that is quite similar to cartoons, with clear blocks of colour to depict the key areas of each shape. The fragile boat that lays in the enormous waves of this painting indicates how man can be at the mercy of nature but will still always strive to work with it, bravely in some cases.
Hokusai's paintings proved very popular in Paris with in the mid-19th century where the most creative minds were gathered in an exciting posse of artistic influences, all bouncing off each other. The likes of Claude Monet, Edgar Degas and Henri Toulouse-Lautrec were extremely interested in the styles and techniques coming from exotic cultures which they had little knowledge of. The Great Wave off Kanagawa is commonly found as a reproduced print all over the world in the modern day with it's reputation, plus that of it's artist, spreading far and wide in the centuries since his death.
Alongside the great number of consumers who buy copies of it there are also impressive reproductions of it in the Metropolitan Museum of Art in New York City, the British Museum in London, and in Claude Monet's house in Giverny, France plus many other key art institutions. Private buyers of reproductions of Hokusai's original paintings tend to choose what ever best fits their homes rather than what is necessarily the most accurate and flattering match of the original, with normal choices including posters, framed art prints, huge wall murals and also stretched canvases. Typically, giclee prints offer the most accurate match to Hokusai's colour selections in his 1829 ukiyo-e wooden block print.
Note: Great Wave off Kanagawa by Hokusai is sometimes called "Great Wave off Kanagawa", "Cresting Wave Off the Coast of Kanagawa" and "Great Wave at Kanagawa", but all refer to the same Hokusai print as seen throughout this website.
Great Wave off Kaganawa Desktop Wallpaper
You can download a huge digital image of Hokusai's Great Wave off Kaganawa right here and save it to your computer for use as a stylish desktop wallpaper. Simply right click on this Great Wave off Kaganawa Desktop Wallpaper link and select 'save as' to download it to your computer, where you can set it as your computer's background. Please note, it is a large high resolution download at 37MB.
Hokusai's Thirty-six Views of Mount Fuji
Hokusai's Great Wave off Kaganawa was an exceptional work and actually just the first in a whole series of prints produced by this Japanese artist that became known as his Thirty-six Views of Mount Fuji. For you interest, we include the full list below.
The Great Wave off Kanagawa
South Wind, Clear Sky (also known as Red Fuji)
Rainstorm Beneath the Summit
Under Mannen Bridge at Fukagawa
Sundai, Edo
The Circular Pine Trees of Aoyama
Senju, Musashi Province
Inume Pass, Koshu
Fuji View Field in Owari Province
Ejiri in the Suruga Province
A sketch of the Mitsui shop in Suruga in Edo
Sunset across the Ryogoku bridge from the bank of the Sumida River at Onmayagashi
Sazai hall – Temple of Five Hundred Rakan
Tea house at Koishikawa. The morning after a snowfall
Below Meguro
Watermill at Onden
Enoshima in Sagami Province
Shore of Tago Bay, Ejiri at Tokaido
Yoshida at Tokaido
The Kazusa Province sea route
Nihonbashi bridge in Edo
Barrier Town on the Sumida River
Bay of Noboto
The lake of Hakone in Sagami Province
Mount Fuji reflects in Lake Kawaguchi, seen from the Misaka Pass in Kai Province
Hodogaya on the Tokaido
Tama River in Musashi Province
Asakusa Hongan-ji temple in the Eastern capital [Edo]
Tsukuda Island in Musashi Province
Shichiri beach in Sagami Province
Umegawa in Sagami Province
Kajikazawa in Kai Province
Mishima Pass in Kai Province
Mount Fuji from the mountains of Totomi
Lake Suwa in Shinano Province
Ushibori in Hitachi Province
Hokusai's Additional 10 Prints
The incredible success of the original Thirty-six Views of Mount Fuji encouraged the artist to create a further ten art work pieces to add on top which remain well known today too, although most attention is given to only the original 36 of the series.
You can see below a list of these additional 10 which came about from public pressure to see more from this exceptional ukiyo-e woodblock print series.
Goten-yama-hill, Shinagawa on the Tokaido
Honjo Tatekawa, the timberyard at Honjo
Pleasure District at Senju
Nakahara in Sagami Province
Ono Shinden in the Suruga Province
Climbing on Fuji
The Tea plantation of Katakura in Suruga Province
The Fuji from Kanaya on the Tokaido
Dawn at Isawa in Kai Province
The back of Fuji from the Minobu river