It was Katsushika Hokusai who produced The Great Wave off Kanagawa in the early 19th century and it has since become one of the most recognisable Japanese paintings in history, with even the most occasional art follower being aware of this famous painting.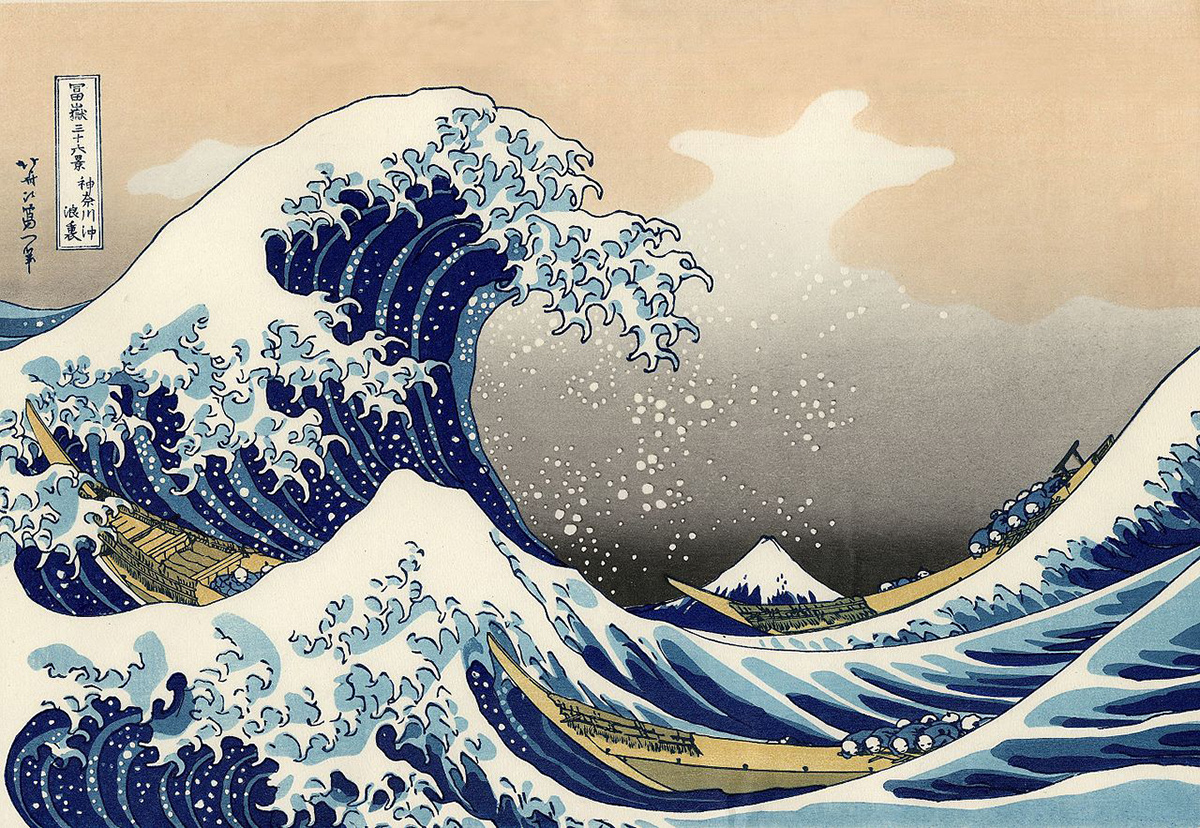 Firstly, what an extraordinary painting! It cannot be surprising that this artwork from Hokusai has turned out to be so popular. It is an accessible and beautiful piece that needs no backstory for those new to Japanese art – it can simply be appreciated straight away. In the fast pace of modern society, few people have the time to look into the depths of art history in order to understand the intricacies of different paintings. This is particularly the case online, where Japanese Wave Painting is a term that has been used much more frequently than anything related to the precise title of the painting, or the artist behind it. Often, people are not really looking to learn more about the artwork itself, but are actually looking to buy prints of the wave painting to add to their own home. Prints reproductions of Hokusai's wave are amongst the most popular choices in all of art history, which is a huge achievement when you consider the extraordinary creative minds that have been found across the world within the past few centuries.
Hokusai's style was a beautiful combination of both traditional and also contemporary. He took what had gone before within Japanese art history and pushed things forwards with his own technical and creative innovations. You will see large blocks of pure colour which feels contemporary and works incredibly well on digital screens, and also helps this painting to work in smaller sizes, such as art print reproductions. More intricate detail will be lost when we reduce a huge mural down to something much smaller and so this painting is far more appropriate as a poster or print for your own home. Indeed, many will even buy mugs, calendars or t-shirts with the great wave image on it, sometimes entirely unaware of the history that surrounds this famous painting. The colours are also entirely modern, bright tones of blue in two clear tones work beautifully against the white surface of the sea, where the wave looks at its most aggressive.
The correct title of this artwork, that many refer to simply as Japanese Wave Painting was actually The Great Wave off Kanagawa. It was put together over the period of 1820–1831, although obviously the artist was not only working on this painting throughout that period. It more summarises the lack of information and documentation that we have available on it, and so only an approximate date is given to the piece. That said, it is not due to the artist himself being obscure – far from it. Katsushika Hokusai is considered by many to be the greatest Japanese artist in history and produced hundreds of stunning artworks besides the painting found here. He covered a number of different genres within his career, but was considered particularly skilled in landscape and seascape paintings. He would actually feature waves within other artworks as well, but these have not achieved the same level of fame as the one found here.
Hokusai was someone who was entirely at one with nature and was constantly seeking out different ways of capturing it within his work. His use of rivers and sea was varied, sometimes truly calming, and other times explosive as found in the great wave painting discussed here. Rolling hills were another common feature, and in some cases he would also incorporate man made items as well, such as charming bridges which would normally cut across the centre of his compositions. Fishermen appear from time to time, and in some cases they would be depicted in peril, at the mercy of the power of nature as they attempt to go about their lives. There would also be a number of waterfalls too, where we have movement but at a leisurely pace which seems to suit some of the Buddhist ideals which impacted Japanese culture over a long period of time. He was rare in being able to fuse humanity and nature together seamlessly, and this ability grabs our attention even more in the present day, with such a large contrast between the two in today's society.
The History behind Hokusai's Great Wave Painting
The town of Kanagawa, as mentioned in the title, is actually now a part of the large expanse of Yokohama, which is one of the largest and most famous cities in Japan. At the time of the artist's visit, this was just a simply fishing town with a much smaller population prior to the development of this region. The seas in this area was known to be fierce, with fishermen regularly washed away whilst working at sea. Their boats, as displayed in some of Hokusai's paintings, were small and completely incapable of dealing with the ferocious power of nature. No doubt, they would normally have avoided being in such conditions, but when it did occur, they would be in immediate danger. Many artists have attempted to display the precarious nature of humanity by comparing it with some of the more explosive displays of nature, and Hokusai does much the same here. Additionally, the way in which Mount Fuji is incorporated into the background gives the effect of making the waves look even larger and more frightening in comparison.
Some decades after this painting was produced, the decision was made to merge the town of Kanagawa into Yokohama and efforts were also made to develop this port area in order to help the local economy. Construction work aimed at taming some of these huge waves in order to protect both the residents and also some of the working fishermen. It was as if the town planners had heeded the warning delivered in this painting and chosen to act accordingly. Another interesting element to this painting is that the mountain and the waves are delivered using the same colour scheme, with white plus two tones of blue. This draws the two elements closer together and provides a consistency across the painting. This simple choice of palette appears to have helped give the artwork the contemporary feel that have ensured its popularity with today's younger generations. It feels very much like a well crafted illustration that is then filled with colour. Simplicity is sometimes the best option in art, and it also helps designs translate across different sizes and styles of reproduction.
Buy a Print of the Japanese Great Wave Painting
If we take a look across the entire history of art, we will find that wave prints are amongst the most reproduced of all. This image appears to have struck a chord with people all across the world, and you will find reproductions of it available as prints and posters in many online stores. Art.com and Amazon, who sometimes pay us commissions for items purchased by our own visitors, tend to give the best selections and are also perhaps more reliable in terms of quality. The popularity of this particular piece has ensured that they both have widened their types of products in order to cater for this large demand, with huge wall art prints also available, which are essentially the size of murals and display the detail at it's best. There are also canvas prints which put the image directly onto a standard stretched canvas, whilst others prefer the traditional frame and perhaps a small inlay mat inside to protect the print and keep it separate from the inside of the frame.
Large Downloadable Photograph of the Japanese Great Wave
In order to truly appreciate the beauty of this piece for those unable to see it in person we have provided a larger image of the Japanese wave painting below. Feel free to use it as you wish. We hope to spread the knowledge about Japanese art yet further and so any efforts to pin or tweet these pictures would be much appreciated. As mentioned elsewhere, fans of the artwork can also find a large number of retailers online who are willing and able to reproduce copies of the painting in all manner of different guises, be it t-shirts, mugs, calendars or even stickers for your laptop. Whilst this stunning artwork may sometimes take attention away from some of the other notable works from Hokusai, it still plays an important role in drawing new followers in for the first time and helping them to discover the beauty of art from this nation. That can only be a good thing, and many will then take the time to look into this period of history in greater detail.
Traditional Japanese Wave Paintings
As mentioned previously, natural water was an important aspect in the work of both Hokusai and also Hiroshige. Whilst the Japanese wave painting is amongst the most famous image in all art history, there are actually many other examples that some academics consider just as good. We have selected some of the best and included them below, along with links to where you can learn more about them. There are some waterfalls, calm rivers and some dangerous seas amongst this selection, underlining the variety of different ways in which the natural world can be used to convey all manner of messages within art. Any island nation is always extremely proud and well connected to its surroundings seas, which can also provide a large share of the national diet, which is certainly the case with Japan. The paintings of fishermen are particularly charming and also help us to learn more about the techniques used in the past within this country in a way that is immediate and will leave a mark in our minds. Art remains an effective way of introducing people to history, with many then taking the time to learn more through publications on these topics.